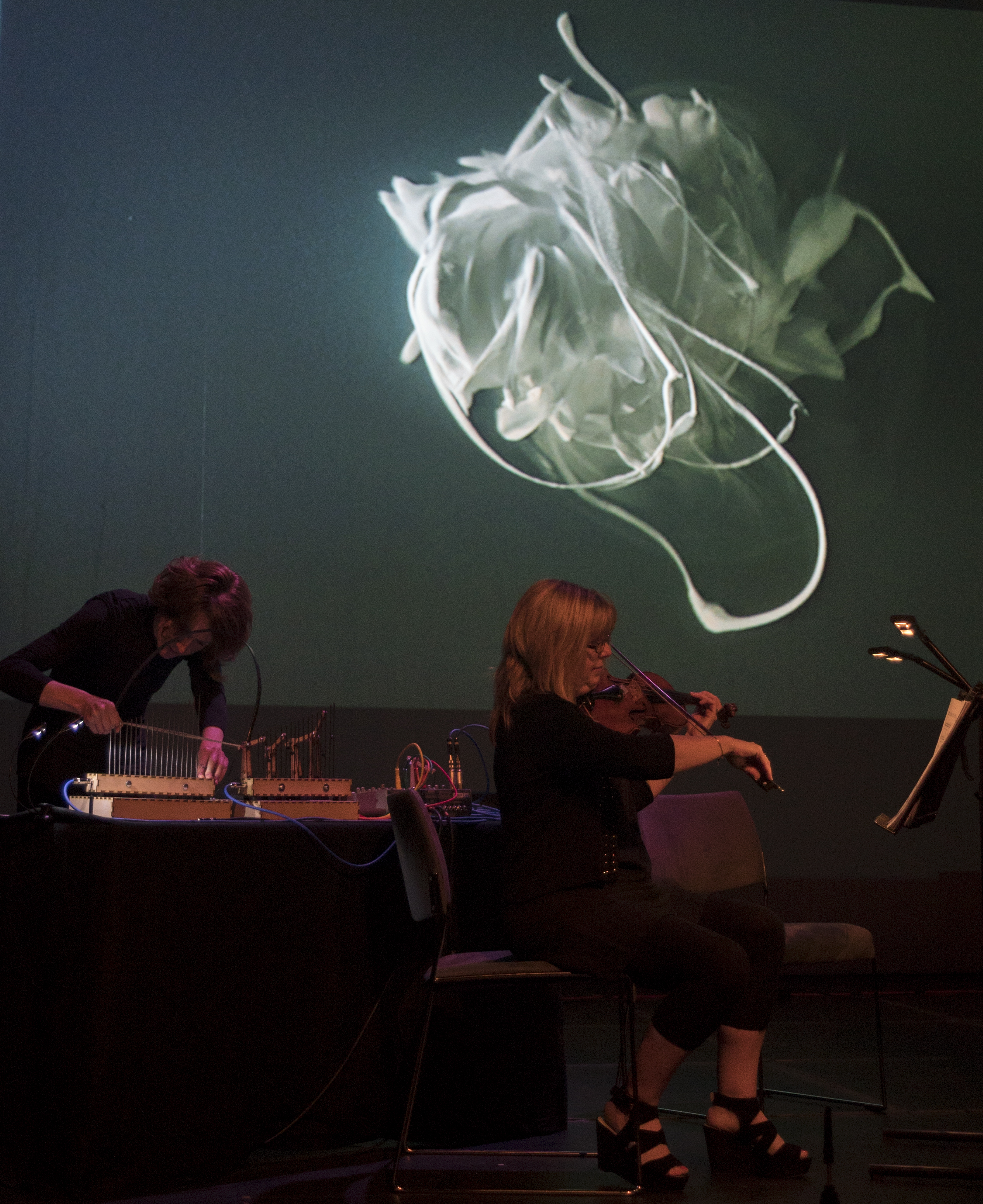 RITUAL IN TRANSFIGURED TIME is a 1946 film by Maya Deren, a surreal silent avant garde movie which inspired one of our two new commissions and the wider aesthetics of the whole programme. RITUAL is an acoustic, electronic and cinematic concert of contemporary chamber music, iconic and lesser known works from the early 20th Century. The concert explores relationships between sound and image, between old and new and between conventional and self-made musical instruments.
Live from the Milton Court Theatre;
NEWS: we are delighted to announce that the video created by Solveig Settemsdal for SINGULARITY has won the prestigious Jerwood Drawing prize 2016 out of over 2500 entries. The video will be shown at Jerwood Space from 14 September 2016.
Reviews:
For new music at the Cheltenham Music Festival, the key phrase yesterday was "transfigured time". Time in the sense of history, as two of the concerts directly explored, confronted, embraced and challenged contemporary music's relationship with instruments, images and idioms from the past. The afternoon event at Parabola Arts Centre featured the Goldfield Ensemble and Langham Research Centre in a concert that unfolded as a long-form electroacoustic audiovisual meditation on these ideas.

Tristan Murail's short duet for clarinet and violin Les Ruines Circulaire set up an environment where focus and a united sense of purpose only gradually materialise, the players initially taking turns to ignore each other, until eventually falling over themselves in a joint cascade of overlapping arpeggios, before collapsing into a wretched sequence of ruins yet always retaining a lyrical heart (brilliantly nuanced by Nicola Goldscheider and Kate Romano). Ricercare una Melodia by Jonathan Harvey, composed in 1985, above all reminded one how long it's been that composers have been using electronics to respond to acoustic instruments, and how challenging it is to come up with genuinely successful results, as Harvey does. Here, Romano's clarinet seemed to be releasing more and more tendrils of melody around her, communing a language of electroacoustic interaction that was complex in nature but simple in syntax.

Leaps and bounds beyond all of these, though, was the world première of Singularity by Kathy Hinde. The marriage of music and film here attained perfection in terms of both aesthetic continuity and elegance. Norwegian artist Solveig Settemsdal's visuals were utterly mesmerising and impossible to resolve, featuring a large globular agglomeration of some kind of matter–liquid or fabric or feathers or something–that pulsed, shivered, hovered, struggled, and evolved, like a glutinous, biological and altogether more placid version of Alex Rutterford's Gantz Graf. Hinde's music was similarly amorphous and behaviourally limited, forming a vaporous texture of shifting densities (including delightful intrusions from the bowed and tickled innards of toy pianos), ethereal, ephemeral, excruciatingly wonderful, like a cross between high ambient and a tantric orgasm. Those wanting a taste can experience it in various locations in the coming months.

5:4 review  |  Cheltenham Festival 9th July 2016
 Ritual in Transfigured Time consists of a 1946 film by Maya Deren set to a 2016 score by Arlene Sierra. What begins as a fly-on-the-wall video showing the day-to-day events of an anonymous female protagonist ends as thrashing choreography, the music following every development of the film, almost as though it had been composed as a soundtrack. The result was an example of how much more powerful sound and visuals can be in their own right, when united in intent

The Cusp Magazine | OVADA Gallery 30 September
Langham Research Centre
Arlene Sierra (composer) | Kathy Hinde (composer) | Solveig Settemsdal (artist) | David Lefeber (film) | Rob Godman (sound artist) |
Curator / producer – Kate Romano
Edgard Varese – Poème électronique 1958
Jonathan Harvey – Ricercare una melodia 1985
Tristan Murail – Les Ruines Circulaires 2006
Rob Godman – Faraday Waves 2015
Kathy Hinde + Solveig Settemsdal – Singularity 2016
Kaija Saariaho – Cloud Trio 2010
Langham Research Centre – Muffled Cyphers 2014
Arlene Sierra + Maya Deren – Ritual in Transfigured Time 2016
RITUAL IN TRANSFIGURED TIME is kindly supported by Arts Council England, the Britten Pears Foundation, the RVW Trust and the Ambache Trust