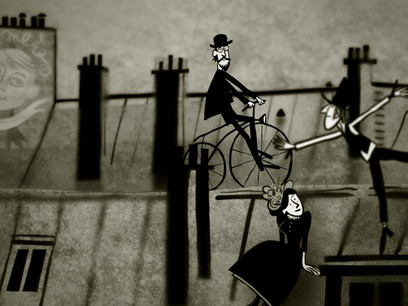 (image:Grégoire Pont, Rooftop gymnopedie, 2009)
It was an absolute pleasure to interview French artist Grégoire Pont about his work with François-Xavier Roth and Les Siècles …and other stories….
'Are you going to film this interview?' asks Grégoire Pont, as I glance sheepishly at my low-tech notepad and pen, '..only I am having a fight with my hair this morning'. It is easy to warm to the Gallic charm of this affable French artist who has been captivating audiences with his live illustrations of classical music for over 20 years. He's back in France when we Skype, buoyant from his Royal Festival Hall appearance with François-Xavier Roth and Les Siècles. Pont had provided animations for Ravel's Ma Mere l'Oye. I notice a guitar and metronome in his study; is he a musician too? 'No, no…' he says. Then 'well, maybe …. I do feel I am part of the orchestra'.
Read the full profile here
(The Cusp Magazine, December 2016)